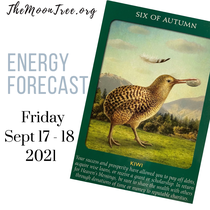 ✨Intuitive Energy Forecast✨
Friday September 17 - Saturday Sept 18, 2021
🎵Taxman - The Beatles🎵
* Sun in Virgo ♍️ (earth)
* Moon in Aquarius ♒️ (air)
* 6 of Autumn (coins, earth) Animal Tarot cards by Raleigh Valentine 
Bill Murray is a Virgo celebrity with his Moon in Aquarius. 
Now I understand why most of the movies on Netflix I've been watching lately have him in it.
This is a an earthy straight-shooter energy (Virgo Sun) that is futuristic and wants freedom, just like air itself (Aquarius moon.)
There are thoughts about the future, about money, about feeling financially secure in this new world. 
Increasing wealth is alot about working smart not hard and how to avoid paying out more than you earn. 
Starting a side business to lower your taxes, investing to get higher returns, and thinking of ways to earn passive income. 
Many of us will be researching how to enter the knowledge delivery business revolution. 
Others will learn about digital currencies and how to invest in them. (I invested some in crypto over a year ago and it's up 74% so that's a pretty good return.)
Speaking of investing, you can start your own WealthSimple trade account using the link below and we'll both get 2 free stocks:
Trina is inviting you to join Wealthsimple. 
Use this link, and get TWO free stocks to trade 💰 
For intuitive readings and energy tools please visit me at:
✨www.TheMoonTree.org✨
Helping You Navigate Life's Energies
.
.
.
#themoontreedotorg #financialastrology #aquariusmoon #mooninaquarius
#intuitivereading #tarotreading #animaltarot 
#astrologyforbusiness #astrologyforreallife