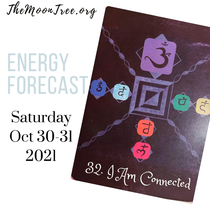 ✨Cosmic Weather Report✨
Saturday Oct 30, 2021 - Sunday October 31, 2021
* Sun in Scorpio ♏️ (water)
* Moon in Virgo ♍️ (earth)
* 32 I AM CONNECTED (The Power of 8 Chakra Oracle at www.TheMoonTree.org)
Matthew McConaughey, Jenny McCarthy and Jodie Foster are Scorpios (perceptive and powerful) with their Moons in Virgo (a cautious and stable approach).
This Halloween weekend we will have very strong beliefs about the world around us. 
We should release "fault-finding" within ourselves and towards others.
32 I AM CONNECTED   
This is about the crown chakra for feeling connected with others. When unbalanced we feel stressed, bored with life, depressed and have mental fog.
The fastest way to balance the crown chakra is by taking a walk outside, preferable with bare feet.
Other ways is to put amethyst and selenite in your bra, use lavender essential oils and wearing purple shirts. 
Your Affirmation:
"I am connected with everything in the Universe and I am at Peace."
(Po8 Chakra Oracle Cards also available as an app at www.TheMoonTree.org)
If you'd like intuitive direction, I can help you at:
✨www.TheMoonTree.org✨
Helping You Navigate Life's Energies
.
.
.
#themoontreedotorg #virgomoon #mooninvirgo
#chakraoracle 
#scorpioseason
#soulcoaching #intuitivereading  #spiritualmedium #energyforecast #energyupdate #oraclecardreading