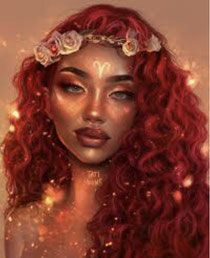 How to Love an Aries ♈︎
March 20 - April 19

It's Aries season! And Spring Equinox is here for us in the Northern hemisphere. A time for new beginnings, confidence and leadership in our lives.

Self-expression, initiative and passion are some of the keywords.

I have an Aries brother and he embodies many of the independent Aries traits. He needs plenty of exercise to offset energy, is a leader in his career and strives for excellence in all parts of his life. He is a devoted and loyal father and husband.

It's impossible to ignore an Aries. This is an assertive, idealistic personality driven by a powerful ego. Subtlety doesn't really exist as Aries will always speak out. They thrive on challenges and aim to win ... that's why they are leaders (and aren't the people sitting on the sidelines.)
Adventurous and young at heart, they may have some trouble with childen who are quiet and introverted. The Aries person will eventually realize that not everyone is as outward and energetic as they are.  They can learn to accept those that require solitude and more relaxation than they do.
Aries Careers:
Aries prefers to be the boss and make good entrepreneurs. If employed, they suit leadership positions within the company.
Other careers could be race car driver, negotiator, test pilot, actor, butcher, surveyor, wood-carver, salesperson, fire-fighter, metalworker, naturopath, designer, electrician, surgeon and army officer.
Quick-witted and innovative; the Aries has a good sense of humor with plenty of satirical wit to spare. 

Advice for an ARIES:
• Satire can be funny but words can hurt; it's best to avoid picking on people's shortcomings ("Silence is Golden")
• Curb your quick temper by counting backwards from 10 in your mind and then exercise.
• Find a job where you can be excellent and have the independence you need. You are meant to be a leader.
• Listen to the other person speak their truth before interrupting or judging.
• Do many interesting and new things. Boredom and the mundane can easily lead the Aries person into depression.

Gifts ideas for your Aries:
• Weekend adventure
• Performance car
• Gym or martial arts membership
• Power tools
• Tickets to a sporting event
• Designer clothes
• Red roses
• Sportswear
• Personalized gifts (World's Best Dad mug, Initials on a new phone case, etc.)
• Geraniums

Healing gemstones especially for your Aries include:
• amethyst
• aquamarine
• carnelian
• citrine
• aventurine
•  jasper
•  pink tourmaline
•  fire agate
•  iron pyrite
•  garnet
•  topaz 

A vacation to England, Germany, France, Italy or Las Vegas ...would be fun for your Aries.

Trina Amiot
www.TheMoonTree.org
Intuitive Guide