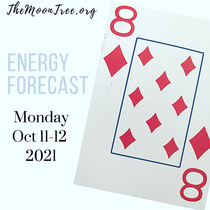 ✨Intuitive Energy Forecast✨
Monday Oct 11 - Tuesday Oct 12, 2021
* Sun in Libra ♎️ (air)
* Moon in Capricorn ♑️ (earth)
* 8 of Diamonds ♦️ 
Matt Damon, Michael Douglas, Neve Campbell, Susan Sarandon and Johnny Carson are all Libras (charming & elegant) with their Moons in Capricorn (terrific self-control and determination.)
We can expect that kind of energy for all of us, at the beginning of our week. 
It's a good time to complete those tasks you've been neglecting.
8 of Diamonds ♦️ 
Capricorn rules career related activities, and the 8 of diamonds means that there is potential for happiness in your work… or else a profitable undertaking is coming your way. 
(Look for the opportunity and go for it!)
If you'd like to download your playing card meanings PDF, visit my FREE page on my website:
www.themoontree.org/free-stuff-education/