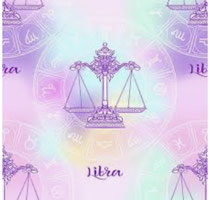 How to Love a Libra ♎️ 
September 22 - October 22
Happy birthday to our diplomatic, wavy-haired friend of the zodiac!  
One should always make sure to have a Libra at the party. Besides the good-looks factor, they are just so nice to be around. 
The scales in the Libra glyph symbolize balance, harmony, fairness and justice. 
That's a Libra's perfect world: "Oh, if only everybody could just get along!"
But a Libra will fight for the underdog. 
Many make good lawyers or work in legal/justice careers...they just take forever and a day to make their own decisions. (Probably from weighing out the options on that Libra scale again.)
They are so good with people. Very sweet and charming.   Beautiful faces and the women are usually curvy and shorter in stature.
They have a sweet demeanour, with  a tough interior. Loving relationships are very necessary for them. 
They need a partner in some way. 
They like their "alone-time", but they don't like to be solo. 
As an air sign, a Libra is good at thinking. So they have trouble expressing how they truly FEEL deep down. (They fear disrupting any balance they worked so hard to get.)
It would be wise for your Libra to not worry so much about people-pleasing. 
Holding stuff in will make your Libra sick. (Throat, thyroid, sinus, lungs, upper back, head, ears and teeth) 
Sinus issues, fatigue and headaches are common for Libra because of holding in those true feelings in order to please others.
There needs to be harmony and cooperation in their workplace or your Libra just won't work there. 
Workplace politics turns the Libra off as they subconsciously know that those energies could be better placed. 
Libra is affiliated with Venus so working with the public and forms of art/cooking/drama and beauty can be prominent. 
You'll find Libras in these people oriented and/or artistic industries:
Theatre, music, art sales, real estate/property, cooking, government service, judge, banking/banker, public trust, florist, hairstylist, food, retail, sex therapist, beautician, wedding planner, jewelry, vet, attorney, airplane stewardship, interior decorator and makeup artistry 
Your Libra likes dancing, t'ai chi, racquet games and health club memberships.
Don't gift your Libra something cheap or tasteless. The safest present is a gift voucher for somewhere truly exclusive.
Copper jewelry with gemstones such as Ametrine, Apophyllite, Aquamarine,   Green Tourmaline, Jade, Lapis Lazuli, Lepidolite, Moonstone, Peridot, Sunstone and Topaz are good choices for your Libras.
Take them on a trip to Argentina, China, Tibet, Vienna, Lisbon in Portugal, Arles in France, Burma or an exquisite cruise. 
(Or anywhere with mountains,  where there's pure, clean air.)
Your Libra will benefit from any Blue flowers, Lilac trees, Roses, Daisies, Dahlias, Violets, Primrose, Pansies and Lemon trees. 
Feed them honey, fruit, strawberries, thyme, burdock herb, watercress, artichokes, asparagus and various spices for good health.
Visit ✨www.TheMoonTree.org✨ for intuitive services and energy healing products 🦋