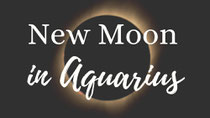 February 11, 2021 is an interesting day. 
The New Moon is in Aquarius along with 5 other planets in that same zodiac sign. 
It's an amazing day of new awareness, new doorways, and new beginnings.
We may feel scattered so it will be important to get grounded.  Choose salt baths, solfeggio music, essential oils, yoga and meditation as examples.
But don't overthink it, it's nice to just go with the flow and enjoy the happy vibes. 
Use those spurts of intuition to your advantage. It's a revolution Baby! Being a TrailBlazer can be tough, so hang out with like-minded friends who have the same futuristic ideals as you. 
Remember we're still in Mercury Retrograde until February 20, so don't make any rash decisions and if you must sign on a dotted line, just make sure you've carefully read over it a few times. (Get your Capricorn and Virgo friends to look over it too. They're good at spotting the little details.)
Watch my latest YouTube video on the New Moon in Aquarius ♒️ for more information. 
Thanks for reading and for personal intuitive consultations and energy healing tools, please visit me at:
✨ www.TheMoonTree.org ✨
Helping You Navigate Life's Energies
.
#