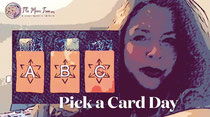 Welcome to your free pick a card intuitive reading video on YouTube located here:
Oracle card decks used in this video:
• Mirror Truth Lenormand
• The Power of 8 Chakra Oracle
Buy your copy of The Power of 8 chakra oracle cards (or download our FREE oracle card app) here:
https://www.themoontree.org/power-of-8-chakra-oracle-cards/
TIMESTAMPS FOR READINGS:
A. 0:27
B. 2:02
C. 3:13
Thanks so much for watching! Please smash the LIKE and SUBSCRIBE buttons and hit the bell 🔔 icon if you enjoy my intuitive living videos!
Love,
Trina 💕
Intuitive Guide
INSTAGRAM:
www.instagram.com/themoontreedotorg
FACEBOOK:
www.Facebook.com/TheMoonTree.org
WEB:
www.TheMoonTree.org