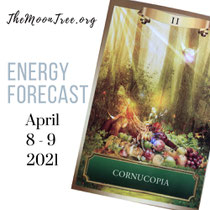 ✨Intuitive Energy Forecast✨
Thursday April 8 - Friday April 9, 2021
🎵COURAGE by The Tragically Hip🎵
* Sun in #Aries ♈️ (fire)
* Moon in #Pisces ♓️ (water)
* 11 CORNUCOPIA (Energy Oracle Cards by Sandra Anne Taylor)
Hugh Hefner, Kenny Chesney, Sarah Michelle Gellar, and Kareem Abdul-Jabbar are Aries celebrities with their moons in Pisces. 
Sun in Aries walks down the adventurous path and thrives when challenged. 
Moon in Pisces energy represents strong intuition, imagination, daydreaming, soothed by the mystical and going with the flow.
This fantasy and imagination can be good.
For example, Playboy Magazine publisher Hugh Hefner, an Aries-Pisces, established his dream as a reality worldwide.
11 CORNUCOPIA
The Universe will reward any efforts you make in achieving your goals. 
We reap what we sow. 
That's just math. 
Thoughts + Action =  An Outcome
InterFEARence may creep in towards the end of our week especially with the Moon in a strong square with Mars (read about that in my other post)... 
but let's not succumb to self-doubt. 
Better to understand our personal anxieties and tap into Aries energy for courage.
Love,
Trina 🦋
✨www.TheMoonTree.org✨
Helping You Navigate Life's Energies 
.
.
.
#themoontreedotorg #piscesmoon #mooninpisces #ariesseason  #energyoraclecards #oraclecards #oraclecardreader #tarotreading #tarotreader #intuitiveliving #energyhealing #energyforecast #freereading #readingoftheday #intuitiveliving #intuitivereader #intuitivereading #astrologyforecast #astrologyreader #astrologyreading #spiritualadvice