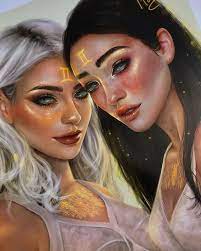 How to Love your Gemini ♊︎
May 20 - June 20

It's Gemini season! 
A time for communications, socialization, ideas and thinking.
Gemini (the multi-tasker) is part of the mutable sign group (along with Virgo, Sagittarius and Pisces.)  
The mutable group notices everything and make good editors.
Gemini is the social butterfly at the party who brings people out of their shell.
They are part of the air signs group (alongside Aquarius and and Libra) who processes stimulus through their minds.
Gemini Careers:

• Many things, (look at your Midheaven for clues)
• Careers that involve communication and aren't boring
• Acting, news, sales or publishing 
• Teaching
• Broadcasting
• Travel industry, flight attendant 
• Sales or Advertising
• Civil engineer
• Personal assistant 
• Bookseller

Advice for a GEMINI:
Choose one thing and complete it...see things through. 
Watch for too much sarcasm, and stay away from gossip or slander.
Earnings come later in life. Save and invest
for the long term. Real estate could be a great income source for you.

Gifts ideas for your Gemini:

• the newest iPhone or other tech gadget that helps with communicating
• jewelry
• a good book
• skincare or other youthful regimen products

Healing gemstones:
• Tourmaline
• Agate
• Apatite
• Apophyllite 
• Aquamarine
• Citrine
• Chrysoprase
• Serpentine
• Tiger's Eye
• Zoisite
• Topaz
• Chrysocolla
• Calcite
• Rutilated Quartz 
• Sapphire  

A vacation to:
Belgium, San Francisco, New York, London, Italy or Spain would be fun for your Gemini. 
(Or go to the mountains.)

Trina Amiot
www.TheMoonTree.org
Intuitive Guide