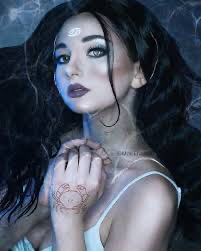 Happy Birthday Cancer ♋️ 
June 20 - July 22
Photo credit: @tatimoons on Instagram
It's Cancer season! Summer solstice (northern hemisphere) and Father's Day too!
A gentle time for nurturing, nostalgia, nesting and motherhood. 
Cancer rules the 4th house of home and family. They need a safe and secure home base to be happy. 
Even enough Cancers attract money,  especially the males…they may never feel totally secure no matter how much money they have. 
Ruled by our feminine Moon,  Cancer Rising people are stocky and the females have larger bosoms.
They are very intuitive and the cycles of the moon strongly affect them. 
They enjoy comfortable clothes and will wear their favourite piece until it falls apart.
Cancer ("I Feel") is part of the Cardinal signs group (along with Aries, Libra and Capricorn.)
Cardinal signs lead people into action. 
They strive for success. 
When vulnerable, a Cancer person becomes moody, jealous and possessive, grabbing at whatever represents security. 
Cancer is like your friend's mom who makes the best cookies for after school. 
Great cooks, bakers and makers of a comfortable home. 
They can be too smothering in their affections and have a hard time letting go of the past.
They are part of the Water signs group (alongside Scorpio and Pisces) who processes stimuli through their feelings and intuition.
Cancer Careers:
Business person

Intuitive (eg. energy healing)

Healthcare worker 

Teaching

Chef, Caterer, Baker 

Social Worker

Homecare worker 

Stay-at-Home parent 

Pediatrics

Government Service

Interior Design

Real Estate

Hotelier 

Museum, Antiques

Anything on the water (fisher-person, boat-builder, sailor, etc)
Advice for a Cancer:
Work towards inter-dependence with others, not co-dependence.
Protect your energy fields. You absorb a lot of other people's energy. Take salt water baths, carry black onyx or other black protective stones, use essential oils, (especially ones from a tree like cinnamon bark, sandalwood or cedarwood.)
Nothing can harm your soul. You are safe. 

 

Create a list of what you're thankful for. Let go of the past and move forward.
Gifts ideas for your Cancer:
Cookbook

Hugs

Charcuterie board or a picnic gift basket filled with good cheeses, meats and spreads 

Gift certificate to a good bra store 

Pearl or silver jewelry 

Antiques

Fishing stuff

Family Photo Shoot gift certificate

Boat/fishing trip 
Healing gemstones:
Moonstone

Pearl

Abalone shell

Larimar 

Black onyx
A vacation to:
Scotland, Canada, Amsterdam, New York City or anywhere near water is a fun vacay for your Cancer ♋️.
Trina Amiot
www.TheMoonTree.org
Intuitive Guide