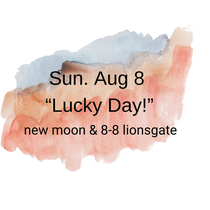 On Sunday August 8, 2021, we have a New Moon in Leo ♌️ (new beginnings) which strongly accentuates the 8-8 Lionsgate Portal (for super manifestation.)
The Lions Gate Portal is a powerful cosmic alignment that has been known as early as 3000 BCE. 
It's when the Sun is in its home sign Leo and the star Sirius gets closer to Earth, with a culmination point on the 8.8. 
The Lionsgate Portal is activated.
Here's when the Earth and the Sirius star system are in perfect alignment.
There's a massive acceleration happening to our growth, spiritual awakening, and reality. Manifestation powers are at their strongest. 
Be open to receiving light codes, insights, and even life-changing information at the moment, for you are being UPGRADED to enter the next phase.
Becoming heart chakra centered will help us to manage this strong energy. Practice love, gratitude and healing thoughts for the world. 
 Visit me, Trina, your intuitive guide: 
.
.
#themoontreedotorg #cosmicforecast #lionsgate #8-8lionsgate #newmooninleo #intuitiveastrology
#starseedastrology
#intuitiveguidance
#cosmicastrology
#galacticastrology
#astrologyforthesoul
#lightworkersastrology
#soulgrowthastrology
#spiritualastrology
#healingastrology
#lightworkerastrology
 #intuitiveliving #intuitivereading #intuitivereader 
#awakeningastrology
#freeastrology