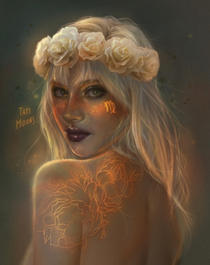 Happy Birthday Virgo ♍️ 
August 22 - September 22
Photo credit: @tatimoons on Instagram
It's Virgo season! An efficient and productive time where we harvest the fruits of our labor and perform acts of service.
Smart list-making Virgo (keyword: "I Analyze") is ruled by the intellectual planet Mercury.
Virgo is part of the Mutable signs group (along with Gemini, Sagittarius and Pisces.)
Mutable signs make great team players as they work for the good of all.
Virgos are part of the practical Earth signs group (alongside Taurus and Capricorn.) 
The efficient and steadfast Earth element carries things through with a good moral value system.
Virgo rules the 6th house of health, work and service to others. 
You'll notice their lean healthy physique, and their clothes are matched nicely. Most are workaholics; they just love work.
Virgos have money in the bank as they are smart spenders.
Virgo is a great editor, as it is focused on the details. Too much of this focus leads to burnout, anxiety, and hyper-critical behaviour. 
(Sometimes Virgo can't keep up to Virgo's own high standards.)
Virgo Careers:
alternative healing 

health & fitness 

pharmacist

veterinarian 

teacher

linguist 

proof-reader

critic

dental

nutritionist

personal assistant

editor

bookkeeper

gardener

scientist

inspector

librarian

yoga teacher 

craftsperson

data processor
Advice for a Virgo:
your soul is learning to be of service to others without the thought of reward, recognition or validation

loosen your high standards to relieve anxiety and intestinal issues

beware of "analysis paralysis" from being overly perfectionist; this can lead to worry and nervous tension 
Gifts ideas for your Virgo:
orgonite (see my website: www.TheMoonTree.org)

classy chess 

♟

 board

subscription to a team sport or health club

professional massage

spa day

luxury bath oils

alternative health gift 
Healing gemstones:
sodalite

peridot

blue topaz

rutilated quartz

magnetite

sapphire 

moonstone

opal

moss agate

amazonite
A vacation to:
Switzerland, Paris, Greece, Boston, a health farm or Germany is fun for your Virgo ♍️.
Trina Amiot
www.TheMoonTree.org
Intuitive Guide