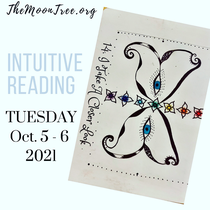 ✨Intuitive Energy Forecast✨
Tuesday Oct 5 - Wednesday Oct 6 2021
* Sun in Libra ♎️ (air)
* Moon in Libra ♎️ (air)
* 14 ~ I Take a Closer Look (The Power of 8 Chakra Oracle available at www.TheMoonTree.org)
Oooh double Libra in the air folks!
Kate Winslet, Christopher Lloyd and Jesse Eisenberg are all Libra celebrities with their Moon in Libra too.
This energy brings us a charming love for people… what they're wearing, how the people think, what's their motivations etc.
We can be sweethearts to everyone! 
But have fun trying to to make an actual decision during  Tuesday & Wednesday. 
Libra doesn't like to do that, because this energy is pain-stakingly fair. 
14 ~ I Take a Closer Look 
It's important to look at all the complex layers of your situation. 
We can use both the heart and the mind to make the right choice.  
The Power of 8 Chakra Oracle Cards
 (also available as an APP for iOS and Android),
✨www.TheMoonTree.org✨
Helping You Navigate Life's Energies