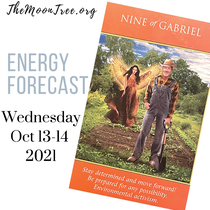 ✨Intuitive Energy Forecast✨
Wednesday Oct 13 - Thursday Oct 14, 2021
* Sun in Libra ♎️ (air)
* Moon in Aquarius ♒️ (air)
* 9 of Gabriel (Archangel Power Tarot by Doreen Virtue and Radleigh Valentine) 
John Lennon, Eminem, R.L. Stine and Chevy Chase are all Libras (graceful articulation) with their Moons in Aquarius (free-spirited and forward-thinking temperament).
9 of GABRIEL 
Also called the 9 of wands in regular tarot decks, this is about taking action. 
Don't give up! 
You've worked hard and your time is valuable. You might need some courage and determination to get over this last hump. 
(This is the last challenge before success comes your way!)
There is a health element to this card too. 
Environmental Activism, buying/growing organic foods, vegetarianism, plant health etc. can be good ways to fend off illness.  
If you'd like direction in your life path, I can help you at:
✨www.TheMoonTree.org✨
Helping You Navigate Life's Energies
 #intuitivereader #intuitivereading
#weeklytarot #besttarotreader
#tarotcardreading #tarotforecast
#dailytarot