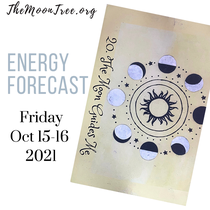 ✨Intuitive Energy Forecast✨
Friday Oct 15 - Saturday Oct 26, 2021
* Sun in Libra ♎️ (air)
* Moon in Pisces ♓️ (water)
* 20. The Moon Guides Me (The Power of 8 Chakra Oracle available at www.TheMoonTree.org)
Kirk Cameron, Kim Kardashian, Catherine Zeta-Jones and Joan Cusack are all Libras (artistic, gentle & elegant) with their Moons in Pisces (intuitive and caring).
This weekend, we might run the risk of being overly polite, and losing ourselves to others' problems.
Ask yourself: are these my actual feelings? 
Or am I just absorbing the energy of the world?
There is a happy medium on being compassionate while still taking a stand on your own beliefs. 
20 THE MOON GUIDES ME
The moon phases have a strong influence on us. It's a good time to learn about how these phases affect us.
You can get the own free moon guide PDF to find out what to do during each phase here:
https://mailchi.mp/0b8d7e332156/moon-phase-guide
If you'd like direction in your life path or help
Solving a problem, I can help you at:
✨www.TheMoonTree.org✨
Helping You Navigate Life's Energies
(Po8 Chakra Oracle Cards also available as an app at www.TheMoonTree.org)