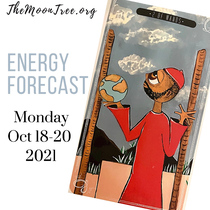 ✨Cosmic Weather Report✨
Monday Oct 18, 2021 - Wed Oct 20, 2021
* Sun in Libra ♎️ (air)
* Full Moon in Aries ♈️ (fire)
* 2 of Wands (by Soulful Revolution)
Full Moon 🌕 in Aries on Wednesday!
Membership to The Moon Tree Readings Club gets you exclusive access to the Full Moon video forecast:
https://themoontree.samcart.com/products/the-moon-tree-readings-club
Usher, Heather Locklear, Anne Rice and Mario Lopez are Libras (benevolent and friendly) with their Moons in Aries (confident and driven).
The energy is very opposite in the cosmos.
Although we should feel laid/back and passive with the Libra influence, that Aries Full Moon makes us feel restless, impatient and easily bored.
We will see fluctuations in moods, so take 10 deep breaths if you start to feel too stressed or anxious. 
2 of Wands
This firey 🔥 card is associated with Mars in Aries, an energy for getting things done.
The ball is now rolling, but we are far from finished…
Now's the time to make new partnerships with people who can help move our goals further along. 
Potential is unlimited!!
But it would be a good idea to think carefully and get advice from those we trust before making a big decision. 
If you'd like direction in your life path or need help solving a problem, I can help you at:
✨www.TheMoonTree.org✨
Helping You Navigate Life's Energies
.
.
.
#themoontreedotorg #fullmooninaries #2ofWands 
#intuitiveastrology #libraseason
#cartomancy #intuitivereading #energyforecast #energyupdate 
#astrologyforecast