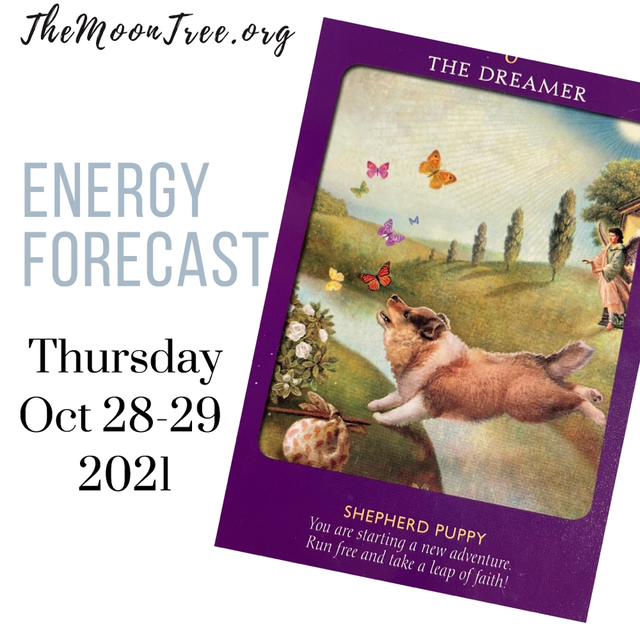 ✨Cosmic Weather Report✨
Thursday Oct 28, 2021 - Friday October 29, 2021
* Sun in Scorpio ♏️ (water)
* Moon in Leo ♌️ 
* 0 THE DREAMER (Animal Tarot Cards by @RadleighValentine) 
Julia Roberts, Peter Jackson and Scott Weiland are Scorpios (perceptive and powerful) with their Moons in Leo (playful with creative expression).
Both Scorpio and Leo are part of the FIXED signs group (alongside Aquarius and Taurus) which means it's a good time for executive tasks and getting that job done.
There's some stubbornness too, that we should be careful of. 
Many times we get so focused on our beliefs even when they're outdated and no longer serve us. 
Is your belief helpful to you? 
0. The Dreamer 
Also called The Fool in traditional tarot, this is the first card in the deck -  it's a beginning of a new chapter!
With a little risk management mixed with the brave leadership energy of Scorpio and Leo, it's time to capture some opportunities here.
Use Citrine and other yellow gemstones for Solar Plexus chakra balancing. This gives you the mo-jo, confidence and the action-oriented energy you need at this time. 
If you'd like intuitive direction to solve a life problem, I can help you at:
✨www.TheMoonTree.org✨
Helping You Navigate Life's Energies