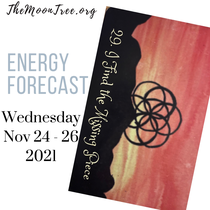 ✨Cosmic Weather Report✨
Wednesday Nov 24, 2021 - Friday Nov 26 2021
🎶 I'm on Fire by Bruce Springsteen 🎶
* Sun in Sagittarius ♐️ (fire)
* Moon in Leo ♌️(fire)
* 29. I FIND THE MISSING PIECE
We're now out of the transformative depths of Scorpio and have entered into the freedom loving, explorative and philosophical Sagittarius season!
Amanda Seyfried, Katie Holmes and Mariano Rivera are Sagittarians (optimistic and liberated) with their Moons in Leo (dramatic, playful expression).
There's fire 🔥 in the air which brings us ambition, motivation, energy and action for the last half of the work week.
If you already have a lot of fire in your chart, you'll need to let some extra energy out probably through physical activity or you might blow up.
29. I FIND THE MISSING PIECE
Notice the red and yellow which are very fiery colours. 
This is a time where Sagittarius mixed with Leo helps you to find that missing piece for your life and suddenly it all becomes very clear. 
Enjoy that clarity and do something productive with it. Don't waste it.
If you'd like some intuitive readings or energy healing products, I can help you at:
✨www.TheMoonTree.org✨
Helping You Navigate Life's Energies
.
.
.
#themoontreedotorg #leomoon #moononleo #psychicreadings
#intuitiveastrology #sagittariusseason
#cartomancy #soulcoaching #intuitivereading #psychicreader #cardreading  #energyhealing #spiritualmedium #energyforecast #energyupdate #oraclecardreading #oraclereading
#astrologyforecast #astrologyreader #astrologyreading #spiritualadvice #intuitiveguidance #intuitiveguide 
#intuitiveliving #healingenergy #spiritualmedium #intuitivereader #intuitivereading #psychicadvice #energymedium