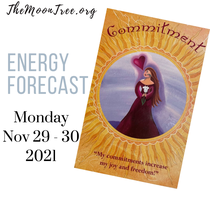 ✨Cosmic Weather Report✨
Monday Nov 29, 2021 - Tuesday November 30, 2021
🎶I'm Every Woman - by Whitney Houston🎶
* Sun in Sagittarius ♐️ (fire)
* Moon in Libra ♎️  (air)
* Commitment (Soul Coaching oracle cards by Denise Linn)
Walt Disney, Ray Liotta, Jay-Z and Sinéad O'Connor are Sagittarians (optimistic and liberated) with their Moons in Libra (fair, elegant and desires harmonious relationships.)
This combination of fire (action) and air (intellect) feels good for the beginning of our week. 
The feeling of discovering something new in personal and business relationships are the focus. 
Especially in business: Focus on creating new international networks who are interested in the problem you solve to get you far this week.
COMMITMENT CARD
"My commitments (Libra moon) increase my joy and freedom! (Sagittarius sun)"
Don't settle for anything less than excellence. 
Do not fear the opinions of others, and do not fear failure. (If you do, you'll just attract that … which is not cool!)
It's time to assess and commit to your goal with no fear. 
If you'd like a personal intuitive reading or energy healing tools to help win at life, I can help you at:
✨www.TheMoonTree.org✨
Helping You Navigate Life's Energies
.
.
.
#themoontreedotorg #libramoon #mooninlibra  #psychicreadings
 #abundanceastrology
#intuitiveastrology #sagittariusseason
#intuitivereader #intuitivereading